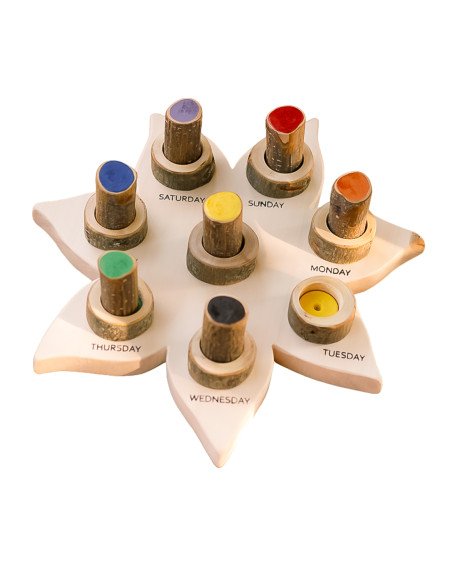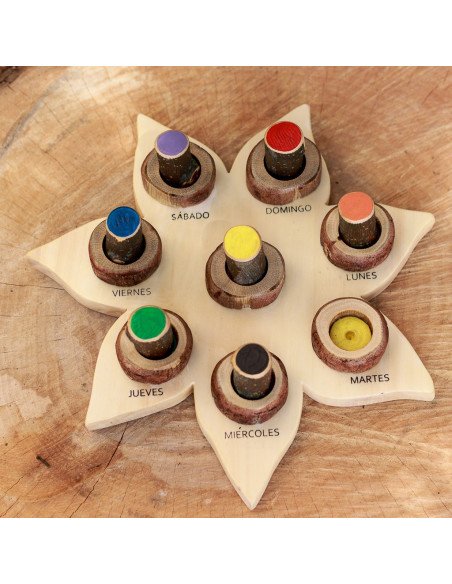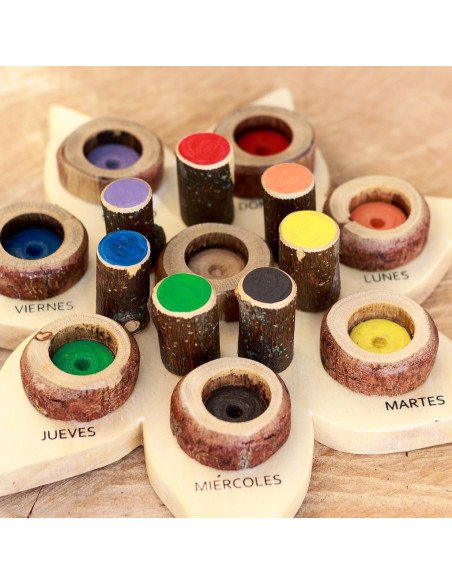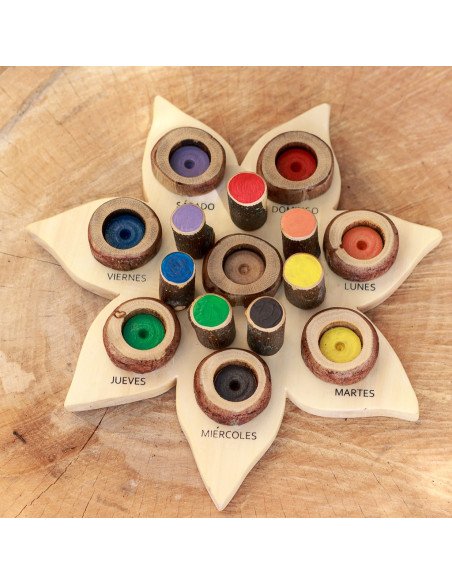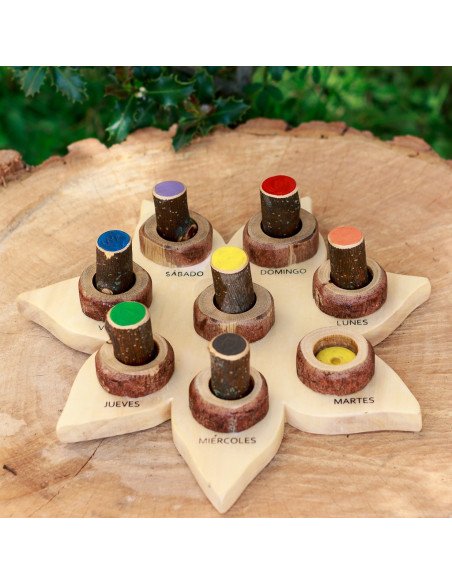 Weekly calendar
Last items in stock
Tax included
Delivery time between 2 and 3 working days.
Placing the children in time is not an easy task, with this type of calendar they experiment with the beginning and end of the day and the concept of the week and allow them to get closer to the notion of time in a very visual way. The days are represented, faithful to the Cocoletes style, by some colored trunks, which the child has to change and place each day in the center of the flower according to its color and in this way they assimilate the passage of time.
This calendar, more than a toy, is an object for the whole family and will be incorporated into the daily routine. 
Available in multiple languages ​​and custom colors.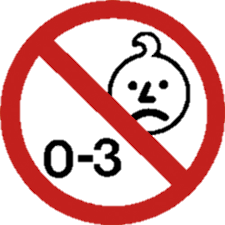 Product customization
Don't forget to save your customization to be able to add to cart
_ Available in several languages: Spanish, English, Basque and Catalan.
_ Standard colors correspond to the colors of the weekly Waldorf calendar: Monday - purple, Tuesday - Red, Wednesday - Yellow, Thursday - Orange, Friday - Green, Saturday - Indigo, Sunday - White.
_ You can customize the colors in the text box. Example: Blue Monday, Red Tuesday, ... etc. It is necessary to mark the option of Custom Colors.
_ The manufacturing space for custom materials is 3 to 5 days
_ The trunks are hand painted with non-toxic and environmentally friendly water-based paint.
_ Each piece comes from different wood cuts, so the product will present differences in terms of the shape and tone of its grain compared to the images that accompany the advertisement.
Recommended age

From 3 years

Safety

Designed and manufactured according to the European directive for toy safety (EN71 Standard)
Tested: EN 71-1:2014 +A1:2018 ----- EN 71-2:2020 ----- EN 71-3:2019 +A1:2021 ------- ISO 8124-3:2020 ----- ASTM F963-17

Wood used

Poplar wood base

Dimensions

25 cm diameter flower-shaped base
Caja 28,5x28,5x5,5cm

Total number of pieces

8